Hi!
Hi, you! How's life treating you? My name's Nylah and if you're here for the first time: greetings! Welcome!
If you're a regular polygon (not one of my best puns), then I'm sure you're screaming: "WHERE THE HELL HAVE YOU BEEN, NYLAH?"
Well, the truth of the matter is this:
Life tends to throw you lemons and, as a highly-experienced almost-twenty year old, I can confirm that sometimes the lemons thrown at you sting your eyes. Sometimes you're eyes are blurry and you don't have a clear head and you do questionable things to numb the pain and to drown (pardon the pun) the emotions but nothing works!
I was in a rut since November 2017. That's a long time, yes. I went on a raw journey where I found myself, lost myself then danced in between. The storm is over but the debris is still there. Currently, I'm tidying up the debris. It's alot; picture a crashed spaceship that carried an entire civilisation.
With that weird analogy out of the way, let me begin my review!
Now, Wintersong is a novel I was inclined to read (and purchase) upon seeing its kick-ass cover. Normally, I plan and pick the books I buy when I release my untamed self into a bookstore. Sometimes, things got awry and I go in a weird, entranced state.
Case in point: purchasing the beautiful Wintersong!
I finished reading this novel probably half way through 2017 then reread it, itching to get my hands on its sequel Shadowsong!
Then, at that point, it was too far so I became a social recluse, reblogging its tags on Tumblr and-
Alright so before I spiral, here's the offical Goodreads blurb, the cover and some extra details you can submerge yourself in: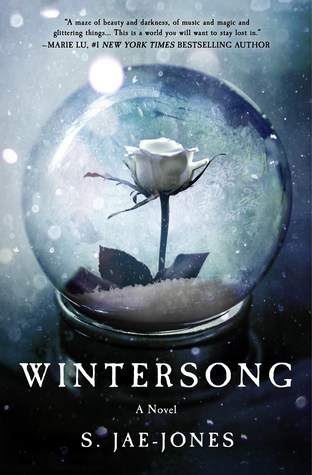 B
eware the goblin men and the wares they sell.
All her life, nineteen-year-old Liesl has heard tales of the beautiful, mysterious Goblin King. He is the Lord of Mischief, the Ruler Underground, and the muse around which her music is composed. Yet, as Liesl helps shoulder the burden of running her family's inn, her dreams of composition and childish fancies about the Goblin King must be set aside in favor of more practical concerns.
But when her sister Käthe is taken by the goblins, Liesl journeys to their realm to rescue her sister and return her to the world above. The Goblin King agrees to let Käthe go—for a price. The life of a maiden must be given to the land, in accordance with the old laws.
A life for a life
, he says. Without sacrifice, nothing good can grow. Without death, there can be no rebirth. In exchange for her sister's freedom, Liesl offers her hand in marriage to the Goblin King. He accepts.
Down in the Underground, Liesl discovers that the Goblin King still inspires her—musically, physically, emotionally. Yet even as her talent blossoms, Liesl's life is slowly fading away, the price she paid for becoming the Goblin King's bride. As the two of them grow closer, they must learn just what it is they are each willing to sacrifice: her life, her music, or the end of the world.
GENRE:
Romance, Fantasy, YA
PUBLISHER
:

Thomas Dunne books
SOURCE:
Bought, paperback!
RELEASE DATE:
February 7th 2017
This novel, it took me a while to get familiar with the word of the land. I took longer than I should've adapting to our protagonist, Liesl. Don't get me wrong; she's great! But her POV was different and there's the old-fashioned setting of the story, too.
Eventually, once I adapted, I couldn't put it down. It was a slow process but I loved reading this novel.
THE! GOBLIN! KING! He was my favourite character. Arguably, he was my old-fashioned Patch Capriano and all those other mysterious book boyfriends of mine. I loved his games, I found him enticing and hilarious.
The dynamic between Liesl and Mein Herr could've been a smidge more direct. I mean, they were friends when Liesl was younger and she felt the familiarity but I always felt there was an elephant in the room no one was addressing.
Liesl's family were just heart emoji. I mean, her brother was one of my top three characters. Her sister, on the other hand, was rather...hard to be pleased to read about. She was an old-fashioned diva and was engaged to Liesl's best guy friend which just screamed Damon-Elena-Stefan to me.
The story was hazy to me for parts where she was Under and on Earth but Liels's tenancies were totally understandable.
Whilst it's not outwardly directly stated, Liesl, as confirmed by Ms Jae-Jones suffers from bipolar.
Therefore, this is me applauding S. Jae-Jones for incorporating race, homosexuality, mental illness and many other issues that would've been 'taboo' in that time in this book.
This book is fantastic and different and magical and mischievous whilst touching on real-world issues and, of course, the romance of a lifetime. I've started the second novel now so will write up my review very soon, so stay tuned!
MY FAVE QUOTES
*When I purchase paperbacks or hardbacks (as in this case, as opposed to ebooks), I don't have the heart to annotate and tag and highlight, etc my fave quotes so here's me taking some from Goodreads
"What's the use of running, if we are on the wrong road"

"There is music in your soul. A wild and untamed sort


of music that speaks to me. It defies all the rules and laws you humans set upon it. It grows from inside you, and I have a wish to set that music free."

"You are the monster I claim, mein Herr."

HEART EYES MOTHER-F**KER

"Yes, you have the very soul of me, Elisabeth."




"Then your name, mein Herr."




He laughed softly, but it was a gasp of pain, not of joy. "No."




"Why?"




"So you will forget me," he said simply. "You cannot love a man with no name."

IM IN PIECES

"Your music," he said at last. "Your music was the only thing that kept me sane, that kept me human instead of a monster."

"I am not a saint; I am a sinner. I want to sin again and




again and again."

ME TOO BUB
All in all, this book was stellar :)
★ ★ ★
3.5
stars!!
Here are my links : (if ya interested)
Comment below telling me which novel in this series is your fave aaandddd why :)
Remember to share this post to your friends and of course, PRE-ORDER THIS NOVEL!