Happy 23rd December to you!!
Today, as the title indicates, I'm going to review Amber Hart's novel, Before You.
Let's begin!
*Although this was very difficult, I've kept this review

SPOILER-FREE.
Goodreads summary: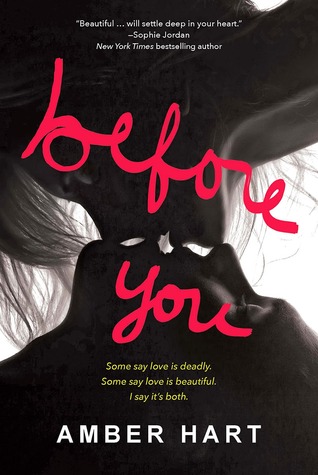 Some say love is deadly. Some say love is beautiful. I say it is both.

Faith Watters spent her junior year traveling the world, studying in exquisite places, before returning to Oviedo High School. From the outside her life is picture-perfect. Captain of the dance team. Popular. Happy. Too bad it's all a lie.

It will haunt me. It will claim me. It will shatter me. And I don't care.

Eighteen-year-old Diego Alvarez hates his new life in the States, but staying in Cuba is not an option. Covered in tattoos and scars, Diego doesn't stand a chance of fitting in. Nor does he want to. His only concern is staying hidden from his past—a past, which if it were to surface, would cost him everything. Including his life.

At Oviedo High School, it seems that Faith Watters and Diego Alvarez do not belong together. But fate is as tricky as it is lovely. Freedom with no restraint is what they long for. What they get is something different entirely.
Love—it will ruin you and save you, both.
GENRE:
Romance, Young Adult (YA), Contemporary
AUTHOR:
Amber Hart
PUBLISHER
: K-Teen
SOURCE:
Bought, paperback
PAGE NUMBER:
304
RELEASE DATE:
July 29th 2014
About the author
Amber Hart grew up in Orlando, Florida and Atlanta, Georgia. She now resides in the Smoky Mountains with family. When unable to find a book, she can be found writing or daydreaming. She's the author of the Before & After series (BEFORE YOU, AFTER US, MAYBE ME), and the Until You Find Me series (UNTIL YOU FIND ME, sequel TBA). Rep'd by Beth Miller of Writers House.
Buy it here:
Confession: I only intended to read this book because I saw its intriguing sequel, After Us on NetGalley and wanted to be up to speed with it (I received the eARC BTW).
As soon as bought it from Waterstones and opened the book, I was immediately hooked.
Here's the author's dedication:
For those who have learned to fly on broken wings.
Also, for my brother who won the battle over addiction.
And for my mother who lost it. I miss you.
I got emotional reading just the dedication! Ms Hart, I hope you know you inspired me and I hope you and your family are well.
Holy cow- words cannot describe how much I love this book! It follows Faith, the girl with the good girl exterior but with bad girl interior. She hides her secrets to maintain her father's rep. Then we've got my new #1 book boyfriend, Diego Alvarez. One word: Hottttttt. He's Bæ and I never use that word. He's everything and I swooned throughout the entire book. I mean, he called Faith mami, which made me go nuts!
Back to the review, Faith and Deigo are both broken souls- and they have broken wings (I freaked out over that in the book- read it to find out what I mean). Diego's from Cuba and is new to school. Enter Faith, who is his peer helper. Basically, for two days she has to show him around. #BestJobEver
I have one request: Dear hell my school, please start recruiting peer helpers so I can find my Diego. LOL #foreveralone
Faith tries- and fails- to resist Diego and his amazing charm. (He calls her 'Mami'. Aaargghhh) I love his techniques to win her back and his confidence and Melissa for helping them come together.
As with every romance, there's obstacles. For example, for Faith it's the fact that her dad's a Pastor and there's tonnes of judgy people around with high expectations. And Diego was a drug bodyguard thingy back in Cuba and must start afresh in the USA.
The novel was written in dual POV, which I enjoy as we get to read both of their feelings/thoughts. Amber Hart is a complete and utter genius with the words (check out my favourite quotes below). I loved her way with words and the way she made the novel and its characters so relatable and made their flaws apparent and most importantly, she reminded us that flaws are okay and they are beautiful. The pace was fine. I enjoyed each climax and each roller-coaster and arrghhh it was just sooooo good. I'm currently suffering from Separation Anxiety with this book.
The romance was on point and then some. Faith and Diego are so hawt together, it's unbelievable. Too bad Diego is mine though, Faith. ;D
I do not have a bad thing to say about this book, other than the feels. Feels come in waves and throughout this book, I was drowning. Willingly.
Actually, there was a part that I didn't get. Faith flirts/teases to Deigo that she doesn't date Mexicans, then goes and says this:
''And I hate it when someone is signled out because of race or ethnicity, but I don't say that to Jason.''
Also, I'm pretty sure my old Spanish teacher would be pleased to know that I learned a lot of Spanish terms from this novela (
← That was supposed to be Spanish for 'novel').
CHARACTERS
Faith~ Faith was a surprisingly cool protagonist and I want to be her bestie. See, the stereotypical 'good-popular-rich' girl in books is spoiled and whiny and annoying. She was not and I really enjoyed reading in her POV. I loved her relationships with Diego, with her BFF Melissa and her half-sister, Grace.
Diego~ I need a Diego for Christmas! (See my Xmas list below!) He was funny, charming, hot, caring, not broken just bent and amazing. He moved from Cuba to America and had a hard time, what with thinking every gringo/gringa was racist, but he worked on that. He's defo Faith's knight in shining armour (remember that- it'll play a large role in the book). I need a Latino- preferably Diego- in my life!
Melissa~ Melissa was Faith's fairy godmother. She was captain of the 'Diath'/'Faigo' ship. (Comment below telling me your ship name for Diego and Faith) Apparently the next book, After Us is about her and Javier! Whaaaaat? It's definitely beginning to look a lot like Christmas!
Javier~ Javier you sweet, sweet human. I really loved this secondary character.
Grace~
Grace is Faith's six year old half sister. (Faith and Grace, get it?) She was cute and one thing I was dying to see was Diego's relationship with her. It's so cute to see guys like him with kids. We get to see that, BTW.
Jason~ Boo Jason. This guy is hot and cold. He's yes and he's no. :P
MY FAVOURITE QUOTES
Picture this: A concerning book lover placing over thirty post-its in the pages of a novel that drove her emotionally insane.
''Everybody knows that girls like me never break free''.

''I glance up at him, kind of like I do when I'm searching for the moon in a sea of darkness''.

''When the glass shattered, the slivered pieces made a breathtaking prism of light''.

''He shines. In a dark way.''

''One of his friends mumbles something in Spanish about how tall I am. ''Hey, what can I say? They make 'em big in mi familia,'' Javier says, laughing.''

''Her eyes remind me of stained glass, bright and cutting.''

''One hand is holding his water bottle. The other is flipping me off.''

''I'm a rubber band, but I stretched too far. I broke.''

''''Red is a good color on you,'' he comments. I'm not sure if he means my blouse or my face.''

''''I was late,'' Melissa answers. 'My third-period teacher decided to give me a lecture about how important it is to be prompt. Which I find pretty ironic, considering that her lecture made me late for lunch.''''

''Cowardice is a nasty bug burrowing itself into my system, waging war within''.

''My mask is flawless.''

''''And you,

mami,

want to run away. I see it in your eyes.

¿Por qué tienes miedo?'' ''I've only had one class of Spanish, Diego. You're going to have to help me out,'' she says.''

''''Fine,'' he says. ''Kiss me one time, and if you don't feel anything, I'll back off. For good.''
I'm gonna stop there with the quotes- sorry if I went OTT. This book was just soooo good.
★ ★ ★ ★
★
5 stars
Questions
☻ Do you long for a Diego, someone to call you mami and take a bullet for you?
☻ Be honest, wasn't Javier a cutie?
☻ Can we talk about how much of an AMAZING friend Melissa is?
☻ Speaking of Melissa, are you itching to read her and Javier's novel?
Fear not! For I am reading an eARC of it and will post the review on December31st!!!! So check back here for that :)
With the possibility that this is my longest review to date, I shall now sign off. I hope you enjoyed my review. Remember to
Comment and Share it!
Follow me on Twitter :)
If you enjoyed this novel, check out the Pushing the Limits series by Katie McGarry! Here, here and here :)
MY CHRISTMAS LIST:
See you next time- bye!!! :D
References:
Book cover:
https://d.gr-assets.com/books/1391146338l/18723597.jpg
Xmas list: Made by me from Quote Generator
I don't own the rights to any of these quotes, etc- they were all simply used for the review.