The book I have chosen for 'Want-it Wednesday' this week is The Weight of Destiny by Nyrae Dawn. For those of you who don't know Nyrae, click here to view her Goodreads profile.
Okay, so I chose this book for many reasons, one being the whole concept seems brilliantly epic and intriguing. Here's the official Goodreads summary and the (beautiful) cover: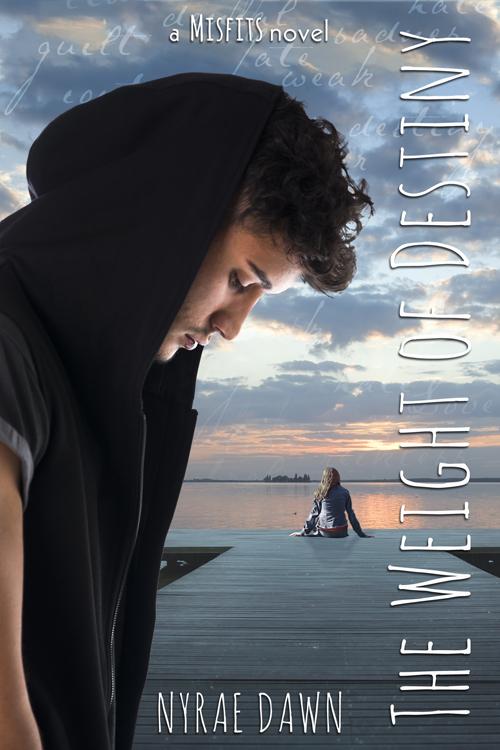 When "crazy" runs in your family and your namesake is known for walking into a river with a pocket full of rocks, a girl kind of wants to avoid tempting fate at all costs. For Virginia Nichols, the only way to dodge that bullet is to be perfect at everything: school, student council, life. Too bad it's all a lie, and underneath the perfection...Virginia is lost.
Ryder Blackstock knows a thing or two about being born into fate. The talents passed down from his father aren't exactly normal; instead of learning how to throw a fastball, he was taught to hot-wire a car like a pro and pick any pocket in sight. He's got criminal blood, just like his old man. And as soon as he turns eighteen, he'll be living life on the run with his dad.
When Ryder and Virginia meet on the beach, it seems they couldn't be more different. Soon they discover they're both trapped in their lives—Virginia denying her fate, Ryder embracing his. Like the rocks in Virginia Woolf's pockets, the weight of their destinies will pull them under. But being together brings out pieces of themselves they didn't know existed—pieces that make them want to take fate into their own hands and rewrite their destinies...if it's not too late.
How brilliantly epic does that sound? And how brilliantly epic is that cover? Wowww!!! I know that I will definitely be swooning for Ryder
♥
Release date: November 18th 2014
Now onto the Q+A with the author, Nyrae Dawn!!
Hello Nyrae Dawn! Thank you ever so much for participating in this Q+A.
Thanks so much for having me!
1). Now, our names are similar..ish (Nylah, Nyrae?). What does your name mean? Do you associate yourself with the meaning?
I don't know what it means. If I'm being honest, I think my parents made it up. LOL. I do love it though.
2). Tell me about the whole concept of The Weight of Destiny: What/who inspired you to write this novel? What's the story about?
Both characters feel like their destiny is set for them. Virginia is named after Virginia Woolf and she comes from writers in her family who have suffered from mental illness. She has a fear of being like them so she focuses on being perfect at everything. She fears her imagination, and letting loose. Ryder grew up the complete opposite. His father is a career criminal and he groomed Ryder to be like he is. Ryder feels like that's all he is. When they're together, they find a way to pretend their destiny doesn't exist.
3a). What's Ryder's personality like? Did you swoon for him whilst writing about him?
Ryder totally made me swoon. He's got a big heart but he's rough around the edges. He doesn't see how great he is. In reality, Ryder has a lot stacked against him. He has a lot to deal with. And he has piercings, which I love!
b). Describe Virginia's personality.
Virginia is very focused on school and doing the "right" thing. She already has college plans and does her homework when she needs to clear her head. This is a story of opposites attract.
5). Is this novel written in dual POVs? If not, what writing style is used?
It is. It alternates between Virginia and Ryder and it's told in first person.
6). Lastly, the cover is absolutely breath-taking! Seriously..and that cover model...
Did you have any input? And do you feel like it represents the story?
Oh yeah. I had all the say in this cover since it's self published. My cover artist (X-Potion Designs) and I worked REALLY hard on it. We had multiple different designs some with people and some without. My friends probably got tired of looking at covers but this one is perfect!
**That would've been the last question, but I asked Nyrae an additional one:
7).
Can you tell me about the other 'Misfit' characters? What's in store for them in this novel and will they get their own novel?
My "Misfits" are Ryder (book one), Shane, Drea, Cody and Tanner. They're a group of five friends who are kind of the "wrong side of the tracks" characters. They're a very close group of friends who would do anything for each other. They will each have their story told :)
Thank you so much, Nyrae Dawn! :)
So that's it for this post- I hope you enjoyed it and found it helpful. I sure did! Thank you again to Nyrae Dawn for participating :)
Don't forget The Weight of Destiny is out on November 18th- To preorder it on Kindle, click here
Also, to keep you going 'til then, go on Nyrae Dawn's blog to read excerpts/teasers
Comment below telling me what you are looking most forward to! Also, follow me on Twitter ;)
Bye!!
References for the images used:
Book cover:
https://pbs.twimg.com/media/B0AWZAJIMAARLRI.jpg:large
Author picture: http://4.bp.blogspot.com/-yF9hTVyYJPo/UAI9VwTo0KI/AAAAAAAAAN8/bQvockuhC_A/s320/another%2Bbio%2Bpic.jpg