'Madness is the very air she breathes'
This tagline is probably the best one I've ever seen on a book. Like, wow!! The suspense! This book seems riveting and freaky and amazing. Truth be told, I've never read any of Bethany Griffins' book- heard of them, yes, read them, no.
So let's make this one the first- and definitely not the last! It is a paranormal/thriller book, which is just the genre I have been craving.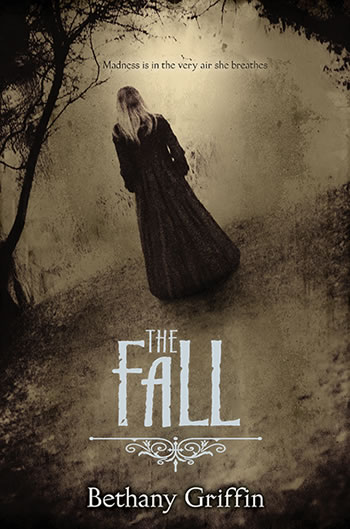 REFERENCE: http://www.bethanygriff
in
.com/pageimages/TheFall_cover.jpg
About the author:
AUTHOR: Bethany Griffin
PUBLISHER: Greenwillow Books
RELEASE DATE: October 7th 2014
ONLY 6 MORE DAYS!!!!!!!!
PAGE NUMBER: 400
How beautiful and sinister and amazing and beautiful is this cover?? It is soo freaky yet soo intriguing. I need this book!! Now!
Bethany Griffin teaches high school English and creative writing
The official Goodreads description:
Madeline Usher is doomed.
She has spent her life fighting fate, and she thought she was succeeding. Until she woke up in a coffin.
Ushers die young. Ushers are cursed. Ushers can never leave their house, a house that haunts and is haunted, a house that almost seems to have a mind of its own. Madeline's life—revealed through short bursts of memory—has hinged around her

desperate plan

to escape, to save herself and her brother.



Her only chance lies in destroying the house.
In the end, can Madeline keep her own sanity and bring the house down? The Fall is a literary psychological thriller, reimagining Edgar Allan Poe's classic THE FALL OF THE HOUSE OF USHER.
If you thought this book was amazing before the Goodreads blurb, then I guess you're now thinking it is beyond amazing (amazing and then some?) because it is BASED ON THE FALL OF THE HOUSE OF USHER. Wowwww
Moment of truth: I fear there may be no romance in this book- Ms Griffin, if you are reading this, is there? :)
So yeah, this book looks epic. I can already foresee me enjoying it and simultaenously being freaked out!
Sound off in the comments below telling me if you will get it and your views on the book:
~ Are you gonna read it?
~ Shall we give a huge hug to the person who designed the cover? Coz, wow!!
~ Will you- if you haven't already- consider reading The Fall of the House of Usher by Edgar Allan Poe?
I am really looking forward to this book's release--- remember,

OCTOBER 7TH!!
Bye! :-) Also, Happy First of October!
Last thing, I swear: I'm having 'reviewing block' (if that's a word- like writer's block, but with reviewing) and so
I need suggestions for books to read and review. So please comment, telling me what you want me to review. Thank you :)
Stay tuned for an EXCLUSIVE Q+A with the author, Bethany Griffin
Follow me on Twitter
: twitter.com/nylah_m